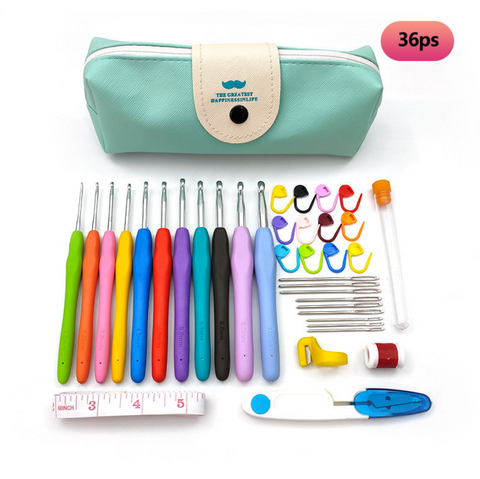 Midori Gifts
Soft Handle Crochet Complete Set
Calling all crochet lovers! We know you've been longing for the perfect set of tools to power up your DIY projects. Look no further, because here it is - the Soft Handle Crochet Complete Set! It comes with everything you need to get crocheting: 36 pieces in total, including crochet hooks, handles, needles, scissors, measure tapes and a neat case to keep it all organized.

Just imagine how beautiful your creations will turn out with this set! The hook handles are made with soft material that feels great against your skin so that you can work on those intricate patterns without getting uncomfortable. Talk about adding a touch of personal style - choices include an array of bright colors that look super cute together. You can be creative while making sure you have everything handy and accessible in one place.

This is an essential addition to any crafter or hobbyist's arsenal. So why wait? Get the perfect solution for your crocheting needs today - the Soft Handle Crochet Complete Set!